Meditation
CUSTOM-PRINTED CHARTS & REPORTS
FOR PICK-UP, E-MAIL OR SHIPPING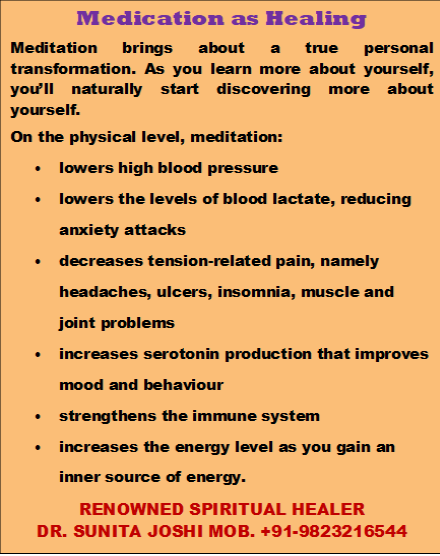 Meditation can be defined as a practice where an individual uses a technique, such as focusing their mind on a particular object, thought or activity, to achieve a mentally clear and emotionally calm state. Meditation brings about a true personal transformation. As you learn more about yourself, you'll naturally start discovering more about yourself.
On the physical level, meditation:
lowers high blood pressure
lowers the levels of blood lactate, reducing anxiety attacks
decreases tension-related pain, namely headaches, ulcers, insomnia, muscle and joint problems
increases serotonin production that improves mood and behaviour
strengthens the immune system
increases the energy level as you gain an inner source of energy.
With regular practice of meditation:
anxiety decreases
emotional stability improves
creativity increases
happiness increases
intuition develops
gain clarity and peace of mind
problems become smaller
meditation sharpens the mind
relaxes the mind, thus giving deep relaxation