Crystal Therapy
CUSTOM-PRINTED CHARTS & REPORTS
FOR PICK-UP, E-MAIL OR SHIPPING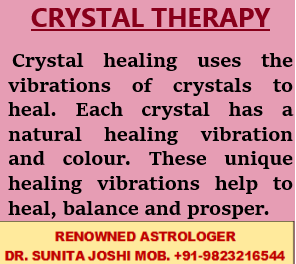 Healing crystals have been used since ancient times, so there is a wealth of knowledge and experience that has been handed down from generation to generation. Crystal healing therapy involves placing gemstones on the body to draw out negative energy. Crystal healing is an alternative medical technique in which crystals and other stones are used to cure ailments and protect against disease.
Crystal healing uses the vibrations of crystals to heal. Each crystal has a natural healing vibration and colour. These unique healing vibrations are introduced to your body and energy field to vitalise, to heal and to balance it. Crystal healing uses the natural minerals of the earth.
Crystal healing can help bring balance and prosperity to your life through vibrations. 
Healing crystals harness the life-giving elements of the Earth and the universe. Harnessing the energy of the Sun, the Moon, and the oceans, semi-precious stones connect us to Earth as soon as we come into contact with them. Many people wonder if crystals have healing powers, and while there are many anecdotes describing the curative effects of healing stones, it really depends on your own experience. It takes a conscious effort to open your heart and mind to the power of crystal healing, but once you begin, the journey is studded with beautiful, mysterious, and unique crystals that will rock your world.
Crystal training and healing sessions are offered to resolve the energy blockages that individual is suffering from.